Best Ping Pong Balls – Reviews & Buying Guide 2023
It does not matter whether you are a careful person or not, either way, we cannot help it but you will mostly misplace your ping pong balls. These days almost every table tennis is equipped with two or more ping pong balls. However, some come with their own limitations and cannot hold for long without getting out of shape or even broken. While others are lightweight, some cannot bounce well as they are supposed to.
This could push you to go out and replace your balls with some cheap and affordable tennis balls you can lay your fingers on. Well, it is your right and choice but from a professional point of view, I wouldn't advise you to do that. Despite these balls looking the same always know that ping pong balls come in different forms in quality. So supposedly if you get the crappy, cheap ping pong ball, you will have a distracted game. We all never want to end there, right?
Here is a guide that will lead you to the best ping pong balls available and what to always look for before buying any. Table Tennis has a long-standing history and its history includes all its accessories that have always completed the game.
Best Selling Table Tennis Balls On Amazon
A Complete Buying Guide For Ping pong Balls
The following are some of the factors to consider while choosing the best ping pong balls.
What Is It Made Of?
Celluloid and polystyrene make balls but balls made of poly are standard ones. Those made of poly are friendly to the environment and transported easily. Two star balls medium- quality and firmer in comparison to one-star ball. They improve your game and for ball practice, they are very ideal.
3-star balls have firmness and quality that are very high. This is a tournament –approved.
What Color Do I Need?
Yellow & white are the colors that are accepted in tournament plays that are legal but for normal fun games; you are free to choose any color you wish. As long as it is a color that is visible to you.
Ping-pong balls rating system
When you wish to buy ping pong balls as you pass via all the options you will reach a notice that every all possesses a rating. This system of rating consists of rating stars to the ball. This means that a ball that is rated three stars is of high quality. On the other hand, a ball that is 1 star rated then straightforwardly means that is of low quality. A lot of tennis table players have preferential for the ping pong balls that are 3 stars rated to play heavy games of table tennis.
Ping pong balls that are one or two stars rated, normally they are used for practice sessions. Other balls that are not rated at all can still be used to practice too. For easy comprehending if you do not know which ball to choose, here is a list of considerations that I have comprised for you to look at;
Balls that are rated 1 star are too soft and never firm too. They are handy for levels of ping pong kids or players that are a novice.
Training balls or practice balls have no system of rating at all. It is this kind of balls that unprofessional players or leisure players go for. These balls of ping pong are very lightweight and never durable. Dare to hit them very hard and see them break into small literal pieces.
Novelty balls possess no rating of stars however people rate them very hard from soft. Again they are not for professional players but only to play in leisure. Tournament plays should never use these balls and in addition, they are packed in sixes.
Put the above points into considerations then thank me later because you will have been capable of purchasing best quality ping pong balls to play very good table tennis games. Good luck ion that!
Top 10 Best Ping Pong Ball Reviews
1.

MAPOL 50 White 3- Star Table Tennis Balls Premium Training Ping Pong Balls
MAPOL 3 star ping pong balls possess favors from players that are improving. This is due to the quality it has. MAPOL 50 White 3-star Table Tennis Balls, unlike other balls, are very light and equally comfortable and smooth.
All you have to exert is power and spin just a little bit. The balls are white in color and measures 40 MM. The balls have an excellent spin, good bounce and the material is long lasting.
2.

Xushaofa 40+ Seamless Poly Table Tennis Balls – 3 Stars
Plastic and celluloid & plastic are market available balls even though both possess merits and demerits. Xushaofa is made from plastic and looks like celluloid made too. It is the second best in bouncing high and spinning high found in the market & bigger too. It is very hard in comparison to other balls that are celluloid made.
However, it's very surprising that it does not change the trajectory very much. They reduce wobbles as well as other effects. Even if there are more than 40 plastic balls they possess good bounce which any player can easily play. The Xushaofa 3-star 40mm table tennis balls are seamless and have very high-quality Ping-Pong bulk. Several level-beginner players use it in tournament games. It has cheap price making it very favorable to most players that do not want to dig their pockets to purchase a ping pong ball.
3.

STIGA Twelve 3-Star Table Tennis Balls
STIGA 3-star ping pong ball is a brand's name by itself. Additionally, it is a high-quality performer becoming tournament-suitable. I must say that it is also USA Table Tennis approved. They are standard having 40mm, weight and size requirement of international table tennis
The balls have consistent bounce, good control, excellent spin and longer volleys. As a matter of fact, STIGA works continuously for its quality development to assist tennis players to become very professional. Table tennis players that are world renowned recommend and prefer STIGA brand to others for as long as decades now. This is all because of their high performance and excellent quality. It has gotten worldwide customer trust because it has a rating of 3 stars thus without any spectra of a second blink or thought to choose it!
4.

TADICK Beer Ping Pong Balls Plastic Multiple Color Table Tennis Ball
TADICK Beer ping pong is a package that is very colorful and is consumer optimizer. Aftermath saying that many balls is visualized with colors of great variety sprinkled brightly.
The balls do bounce high, for instance, to try it out experiment this by bouncing it from any height to a very hard surface then see the extent as to which it bounces. They may be for playing table tennis however its consumers purchase them to decorate or even their pet playmate.
TADICK has numerous purposes also. If I were to put these balls inside drawing room then it I a symbol of art & craft identity thus good choice and high standard will be maintained. In addition, an image that's intoxicating is assumed in minds by this ball.
5.

Franklin Sports 1 Star Table Tennis Balls (18 Pack), 40mm
For colorful balls lovers, this pack is just the option that you are looking for. The set consists of six tie-dye table tennis balls which shine visibly when you play enjoyably on the table tennis table. The balls are designed for all-around performance, accuracy, and precision to your tournament. You are able to use them in quality and durable competitive fun play. The consistent weight and bounce of these balls are ideal for a fast-paced play that professionals do. A lot of players prefer the balls by Franklin due to the balls' moderate decent performance on any whatsoever kind of tennis tournament or game.
Franklin is a brand that is trusted amongst players of table tennis. So why should you have doubt in purchasing them? Among table tennis players, so do not hesitate and buy them now.
6.

12-Pack 3-Star 40mm Ping Pong Balls, New ABS Material Table Tennis Balls by Sports Game Pro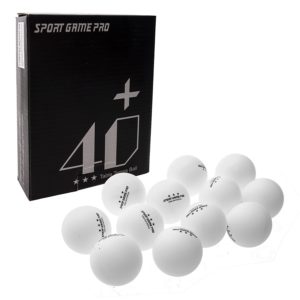 These balls are impressive of very high spin, control, and best bounce quality. Ping balls are white in color. It is applicable for beginners, tennis robots, schools, multi-ball trains and names them. Needless to say, they bounce high into the air The balls do bounce high, for instance, to try it out experiment this by bouncing it from any height to a very hard surface then see the extent as to which it bounces. They may be for playing table tennis however its consumers purchase them to decorate or even for their pet playmate. With 40mm, they are of standard and are round perfectly.
The skills of players are greatly improved by this kind of balls as they play comfortably.
7.

KEVENZ 60-Pack 3-Star 40+ Table Tennis Balls, Advanced Ping Pong Ball
If I were a beginner per say, then these kinds of balls would be suitable for me to commence practice and training. Every ball is perfectly balanced and durable. This makes them last very long for the game. These balls bounce consistently with good spin in order to provide great control as I hit them. They are round perfectly with smooth seams alongside a print of KEVENZ brand on their surface directly indicating them very quality. The balls have great importance to casual players in precise. At play, the balls play amazingly well in high response. If I am to give a comparison of another model to this model then without any spectrum of doubt this one is way better by far.
The ping pong balls possess high quality. It's possible to spin easily and fairly. The balls improve skills of the player tremendously in an aim of aiding them to play comfortably. Possessing better control, slightly bounces higher. The output is long term. They may be balls of high quality however novice players do not use it. The KEVENZ 3-Star 40mm Table Tennis Balls get always perfect if it is in official games because ITTF approved it. It is very compulsory to purchase the sturdy table tennis balls.
8.

Martin Kilpatrick 3 Star Table Tennis Balls – 6 Pack – 40mm – White – Poly Ping Pong Balls – Excellent Quality
They are reasonably priced and not to forget the fact that they are of high-quality balls. Made by the Martin Kilpatrick 3 star table tennis, these balls are very viable for any plays. By this, I mean that they can be for competitions, home, school, or even to train with your tennis robots. These plastic ping pong balls play too alike like that of traditional celluloid balls although it's really nature-friendly.
The balls are 40mm sized with the characterization of a very round with exact thickness in every point. Hence creating a consistent bounce of which players of table tennis appreciate so much at any given level. Do you love to add smash or even spin, and then this ball withstands any abuse. Beside they provide a performance, which game deserves. In addition, it is china-made and not to eliminate the fact that it is on strict quality that it was manufactured. Thus it achieves balance, speed, stable rotation and high uniformity.
The Martin Kilpatrick 3 star ball can be depended on by recreational tennis players and professionals too. In a pack, there are 6 balls.
9.

S&S Worldwide PB148 Jumbo Table Tennis Balls (Pack of 12)
The makers of the S&S Worldwide PB148 Jumbo Table Tennis aim at making customers jubilant as they provide excellent balls. They also satiate their orders.
With a diameter of 2.17 inch, it is 40% larger than any standard tennis balls. Interesting right? They are very good for beginners to aid them to gain quick skills and get excited as they play. Additionally, excitement to your table is added and you vs your robot can love your game so much every day all long. As they are light, they give you great bounce and toss games. In this case, a pack is inclusive of six orange and 6 white balls. This is absolutely great to use on your tennis tables as well as ping pong tables of your choice. Table tennis beginner players this is superbly great for you.
10.

Butterfly Easy Ball 40+ Poly Table Tennis Balls – 6 Pack – 40mm – White – Great for Training
Butterfly products always are approved due to the quality they possess that is very high. By the way, I forgot to say that it's a brand. They are approved by ITTF and USATT. It was approved for the universe by ITTF.
It is highly recommended because it's a product that is very quality by Butterfly. The balls are each 40mm and are rated 3 stars. Apart from that, these balls are bulk and in low price.
Butterfly ping pong balls last longer. They have better control, good bounce as well as fine spin. Additionally, they fly well. You will be surprised that it has a 5-star rating. After accumulating these things altogether to consideration then a package is fully complete.
White is the main color although orange still exists. The white background is the color that many have chosen. These balls are very durable and of high quality due to its make by Butterfly. I highly suggest that you purchase them very soon because there is no existential package that consists of quality balls in the recent prices.
Editor's choice and Final Verdict
A seamless ball compliments a table tennis ball. That is a fact you cannot run away from. Such type of balls does not break easily due to their polystyrene material. Balls will low quality will always have a 2 and below star rating. Always be on the lookout for such low ratings. High price also sometimes never materialize to good quality. From our top 10 list table tennis balls, I settle with the Xushaofa 40+ for both novice and professional level players. Treating these balls with utmost care will make them last longer. Lastly always take your preference while choosing a ball. A ball could be rated with a 3-star and above but isn't meant for you. Being comfortable with your ball choice is the trick to an enjoyable game day.
# Related Buyer's Guides Lists: